Invigorate Your Career In Cosmopolitan Xi'an
Reputed K14 international IB school which following with IB curriculum
Native Level in English with excellent verbal and written English language skills

At least 2 years full-time teaching experience either in home country or other countries

Alignment with a student centered approach to teaching and learning

Experience in using EAL teaching strategies with students

Understanding of differentiation and individualized learning needs

Relevant curriculum experience (Chinese National Curriculum, IB,IGCSE, A Level)
Education and Qualifications
1. Bachelor's degree in relevant/specialist subject area
2. At least two years post qualification experience and specific qualifications to support
3. Teaching licensure such as PGCE, QTS, or state teaching license 
PGCE or QTS, Teaching License from non-UK countries are required
4. Competence in working with a rich cultural mix of students and teachers 
5. Current Child Protection certificate or equivalent
Post-holder Qualifications, Experience
At least two years post qualification experience and specific qualifications to support
DH seeks to attract, grow and motivate the best people to achieve our commitment to putting students first. As an employer of choice, we offer exceptional employee experiences with inspirational leadership. This is supported by an attractive rewards and benefits package.
Our salaries and benefits are competitive in each of our chosen markets. Depending on role and experience, we offer a combination of salary, housing and flight allowance, comprehensive medical insurance, relocation and tuition benefit. Further details of the package for each role will be provided to candidates invited for interview.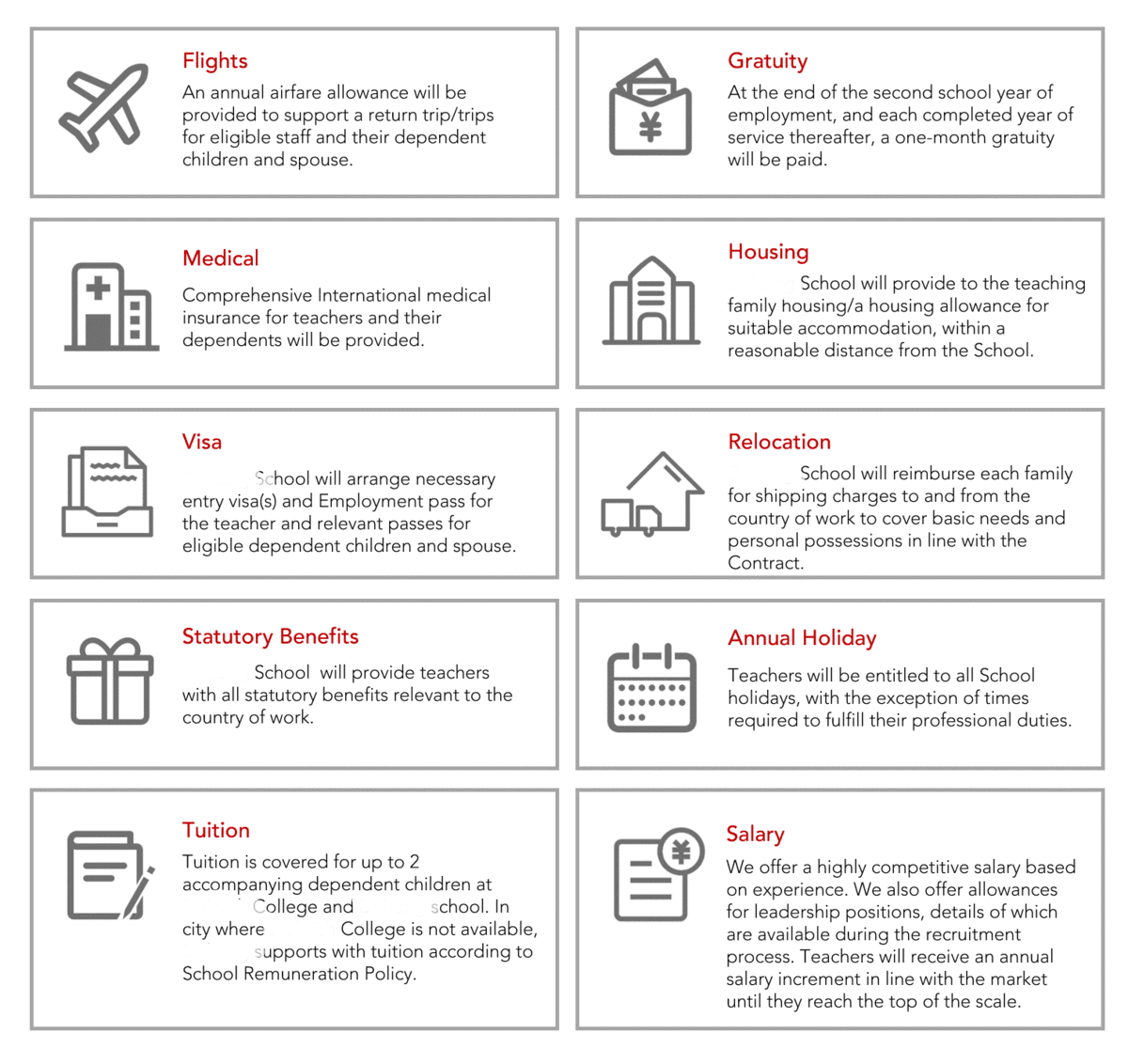 Career Development Opportunities
Class Teacher - Elementary - Academic Expat : The Elementary Class Teacher creates a warm, play-based, language rich environment to promote high quality learning, student agency, and independence. He/she develops positive and caring relationships with students, parents and all school staff. The teacher motivates students to love learning and knows how to build knowledge and skills, leading to deeper conceptual understanding. The teacher understands how to support student wellbeing and the development of strong and positive character attributes essential to leading a successful and purposeful life. He/she works in close collaboration with others across the grade level and school to develop the Dehong curriculum and to plan and deliver exciting, academically challenging, inquiry- based units, which are carefully designed to ensure the development of each student's language competencies. The teacher believes strongly in action research and uses best practice to inform his/her planning, classroom practice and assessment strategies. A clear understanding of school's vision, mission and learning principles is essential.
At school, students come first. And because teachers play an extraordinary role in nurturing our students to become confident, curious, and knowledgeable global citizens, we look to recruit the very best practitioners in international education who are passionate about unlocking the potential of our students.
Our teachers nurture and inspire their students today to make a positive difference in the world – living fully, living responsibly, and living sustainably. We empower our Academic Chinese Teachers to Live Worldwise.
· Display self-control and flexibility and nurture these skills in learners
· Promote a love of learning and student wellbeing
· Show professional initiative and perseverance
· Get on with others and have highly developed communication skills
· Are committed to internationalism and equity
· Are committed to sustainability and global citizenship
· Promote academic rigour and holistic learning
A Worldwise Teacher values:
· Evidence-based pedagogy and personalised student learning
· A compassionate approach to complex problem-solving
· High levels of student motivation and engagement
· Professional collaboration and collective efficacy
A Worldwise Teacher's practice:
· Lifelong learning and reflective practice
· Reveals the complex and inter-disciplinary nature of learning content
· Nurtures supportive and dynamic learning environments
· Maximises every student's opportunity to learn
· Activates hard thinking processes and skills
school is a well-resourced school with highly motivated and academically successful students. Successful applicants will be enthusiastic about the ethos and values of Schools. An attractive and competitive remuneration package will be offered to the chosen candidate. To apply for this position, you will need to include:
Applications should be submitted through our on-line application system by clicking the 'Apply button' on this page

For further information please see our website
School is committed to safeguarding and promoting the welfare of all the students in our care and expects all applicants to share this commitment. We follow safe recruitment practices, which are aligned to the recommendations of the International Task Force on Child Protection. We hold ourselves to a high standard of effective recruiting practices with specific attention to child protection. All appointments are subject to an interview, identity checks, criminal record checks, successful references, as well as due visa and work permit process as required by Chinese law.
Please send one PDF file with the following information and your applied position to Contact details : chinajobc@163.com or info@chinajobc.com
wechat: bchubc (Allen ) or gaoesoul (eso)